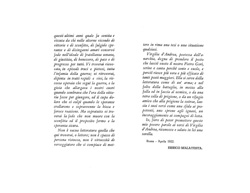 questi ultimi anni quale fu sentita e vissuta da chi nelle alterne vicende di vittorie e di sconfitte, di fulgide speranze e di disinganni amari conservò fede nell'ideale di fratellanza umana, di giustizia, di benessere, di pace e di progresso per tutti. Vi troverai rievocata, in episodi truci e pietosi, tutta l'infamia della guerra; vi ritroverai, dipinta in tratti rapidi e vivi, la riscossa operaia che seguì la guerra, e la gioia che allargava i nostri cuori quando sembrava che l'ora della vittoria fosse per giungere, ed il cupo dolore che ci colpì quando le speranze crollarono e sopravvenne la bieca e feroce reazione. Ma sopratutto vi troverai la fede che non muore con la sconfitta ed il proposito fermo e la speranza sicura.
Non è vacua letteratura quella che qui troverai, o lettore; non è spasso di persona ristucca, non è virtuosità dimverseggiatore che si compiace di mettere in rima una tesi o una situazione qualsiasi.
Virgilia d'Andrea, poetessa dell'anarchia, degna di prendere il posto che lasciò vuoto il nostro Pietro Gori, scrive e canta perchè sente e vuole, e perci&ocap; riesce più vera e più efficace di tanti poeti maggiori. Ella si serve della letteratura come di un' arma; e nel folto della battaglia, in mezzo alla folla ed in faccia al nemico, o da una tetra cella di prigione, o da un rifugio amico che alla prigione la sottrae, lancia i suoi versi come una sfida ai prepotenti, uno sprone agli ignavi, un incoraggiamento ai compagni di lotta. Io, fiero di poter premettere queste mie povere parole ai versi di Virgilia d'Andrea, riconosco e saluto in lei una sorella.
Roma - Aprile 1922
ERRICO MALATESTA
---
these last years as was felt and experienced from who, in the vicissitudes ofvictories and of defeats, of shining hopes and of bitter disappointments, maintained faith in the ideal of human brotherhood, of justice, of welfare, of peace and of progress for all. You will find recalled, in cruel and compassionate episodes, all the infamy of war; you will find, painted in quick and vivid strokes, the work of recovery that followed the war, and the joy which opened our hearts when it seemed that the hour of the victory was about to arrive, and the dark pain/sorrow that struck us when the hopes collapsed/crumbled and the grim and ferocious reaction occured. But above all you will find the faith that does not die with the defeat and the firm purpose and the sure hope.
It is not vacuous literature that you will find here, o reader; it is not a relaxing stroll for yourself, it is not the virtuosity of a versifier who delights to put in rhyme a thesis or any given situation.
Virgilia d'Andrea, poetess of anarchism, worthy to take the place which our Pietro Gori left empty, writes and sings because she feels and desires, and therefore succeeds more true and more effective than many major poets. She uses literature as a weapon; and in the thick of the battle, in the midst/middle of the crowd and in facing the enemy, or from a dark prison cell, or from a refuge/shelter friend who from the prison escapes,throws her verses as a challenge to the bullies, a spur to the slothful, an encouragement to companions in the struggle. I am proud to be able to preface with my poor words these verses of Virgilia d'Andrea, I recognize and greet her as a sister.
Rome - April 1922
ERRICO MALATESTA