<--Previous
Up
Next-->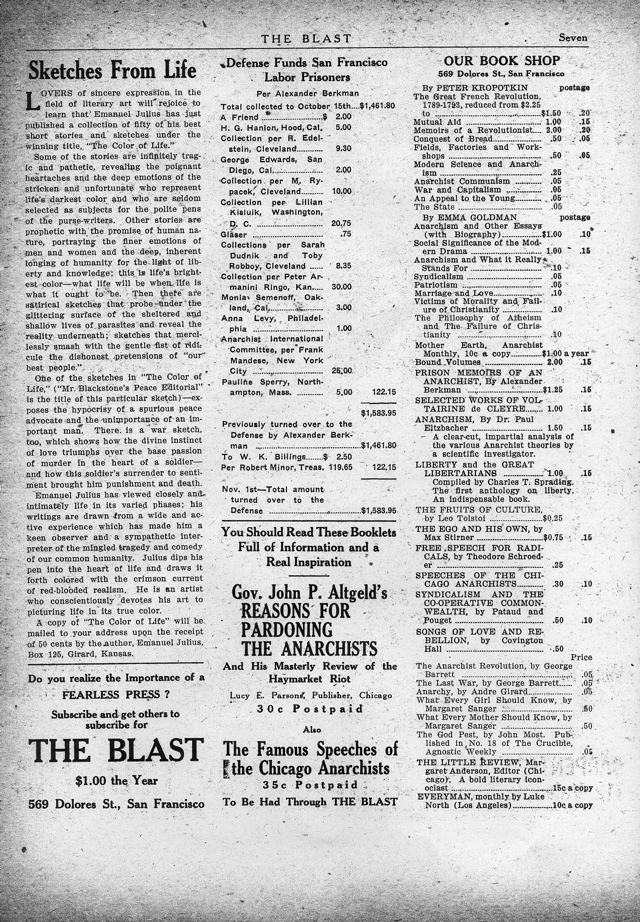 Page 7
---
Sketches From Life
LOVERS of sincere expression in the field of literary art will rejoice to learn that Emanuel Julius has just published a collection of fifty of his best short stories ans sketched under the winning title, "the Color of Life."
Some of the stories are infinitely tragic and pathetic, revealing the poignant heartaches and the deep emotions of the stricken and unfortunate who represent life's darkest color and who are seldom selected as subjects for the polite pens of the purse-writers. Other stories are prophetic with promise of human nature, portraying the finer emotions of men and women and the deep, inherent longing of humanity for the light of liberty and knowledge; this is life's brightest color--what life will be when life is what it ought to be. Then there are satirical sketches that probe under the glittering surface of the sheltered and shallow lives of parasites and reveal the reality underneath; sketches that mercilessly smash with the gentle fist of ridicule the dishonest pretensions of "our best people."
One of the sketches in "The Color of Life," ("Mr. Blackstone's Peace Editorial" is the title of this particular sketch)--exposes the hypocrisy of a spurious peace advocate and the unimportance of an important man. There is a war sketch, too, which shows how the divine instict of love triumphs over the base passion of murder in the heart of a soldier--and how this soldier's surrender to sentiment brought him punishment and death.
Emanuel Julius has viewed closely and intimately life in its varied phases; his writings are drawn from a wide and active experience which has made him a keen observer and a sympathetic interpreter of the mingled tragedy and comedy of our common humanity. Julius dips his pen into the heart of life and draws it forth colored with the crimson current of red-blooded realism. He is an artist who conscientiously devotes his art to picturing life in its true color.
A copy of "The Color of Life" will be mailed to your address upon the receipt of 50 cents by the author, Emanuel Julius, Box 135, Girard, Kansas.
---
Do you realize the Importance of a FEARLESS PRESS?
Subscribe and get others to subscribe for
THE BLAST
$1.00 the Year
569 Dolores St., San Francisco
---
Defense Funds San Francisco Labor Prisoners

Per Alexander Berkman
Total Collected to October 15th: $1,451.80
A Friend: 2.00
H. G. Hanion, Hood, Cal: 5.00
Collection per R. Edelstein, Cleveland: 9.30
George Edwards, San Diego, Cal: 2.00
Collection per M. Rypacek, Cal: 10.00
Collection per Lillian Kisiuik, Washington, D.C.: 20.75
Glaser: .75
Collections per Sarah Dudnik and Toby Robboy, Cleveland: 8.35
Collection per Peter Armanini Ringo, Kan: 30.00
Monia Semenoff, Oakland, Cal: 3.00
Anarchist International Committee, per Frank Mandese, New York City: 25.00
Pauline Sperry, Northampton, Mass: 5.00
---
Total: 122.15
---
Grand Total: $1,583.95
---
Previousy turned over to the Defense by Alexander Berkman: $1,461.80
To W. K. Billings: $2.50
Per Robert Minow, Treas.: 118.65
---
Subtotal: 122.15
---
Nov. 1st--Total amount turned over to the defense: 1,583.95
---
You Should Read These Booklets Full of Information and a Real Inspiration
---
Gov. John P. Altgeld's
REASONS FOR PADONING THE ANARCHISTS
And His Masterly Review of the Haymarket Riot
Lucy E. Parsons, Publisher, Chicago
$0.30 Postpaid
Also
The Famous Speeches of the Chicago Anarchists
$0.35 Postpaid
To be had Through THE BLAST
---
OUR BOOK SHOP
569 Dolores St., San Francisco
By PETER KROPOTKIN:
The Great French Revolution, 1789-1793, reduced from $2.25 to: $1.50
Mutual Aid: 1.00
Memoirs of a Revolutionist: 3.00
Conquest of Bread: .50
Fields, Factories, and Workshops: .50
Modern Science and Anarchism: .25
Anarchist Communism: .05
War and Capitalism: .05
An Appeal to the Young: .05
The State: .05

By EMMA GOLDMAN
Anarchism and Other Essays (with Bibliography): 1.00
Social Significance and Modern Drama: 1.00
Anarchism and What it Really Stands For: .10
Syndicalism: .05
Patriotism: .05
Marriage and Love: .10
Victims of Morality and Failure of Christianity: .10
The Philosophy of Atheismm and The Failure of Christianity: .10
Mother Eath, Anarchist Monthly, $.10 a copy: $1.00 a year
Bound Volumes: 2.00
PRISON MEMOIRS OF AN ANARCHIST, By Alexander Berkman: 1.25
SELECTED WORKS OF VOLTAIRINE de CLEYRE: 1.00
ANARCHISM, By Dr. Paul Eltzbacher: 1.50; A clear-cut, impartial analysis of the various Anarchist theories by a scientific investigator.
LIBERTY and the GREAT LIBERTARIANS: 1.00 ; Compiled by Charles T. Sprading. The first anthology on liberty. An indispensable book.
THE FRUITS OF CULTURE, by Leo Tolstoi: $0.25
THE EGO AND HIS OWN, by Max Stirner: $0.75
SPEECHED OF THE CHICAGO ANARCHISTS: .30
SYNDICALISM AND THE CO-OPERATIVE COMMONWEALTH, by Pataud and Pouget: .50
SONGS OF LOVE AND REBELLION, by Covington Hall: .50
The Anarchist Revolution, by George Barrett: .05
The Last War, by George Barrett: .05
Anarchy, by Andre Girard: .05
What Every Girl Should Know, by Margaret Sanger: .50
The God Pest, by John Most. Published in No. 18 of The Crucible, Agnostic Weekly: .05
THE LITTLE REVIEW, Margaret Anderson, Editor (Chicago). A bold literary iconociast: $0.15 a copy
EVERYMAN, monthly by Luke North (Los Angeles): $0.10 a copy