<--Previous
Up
Next-->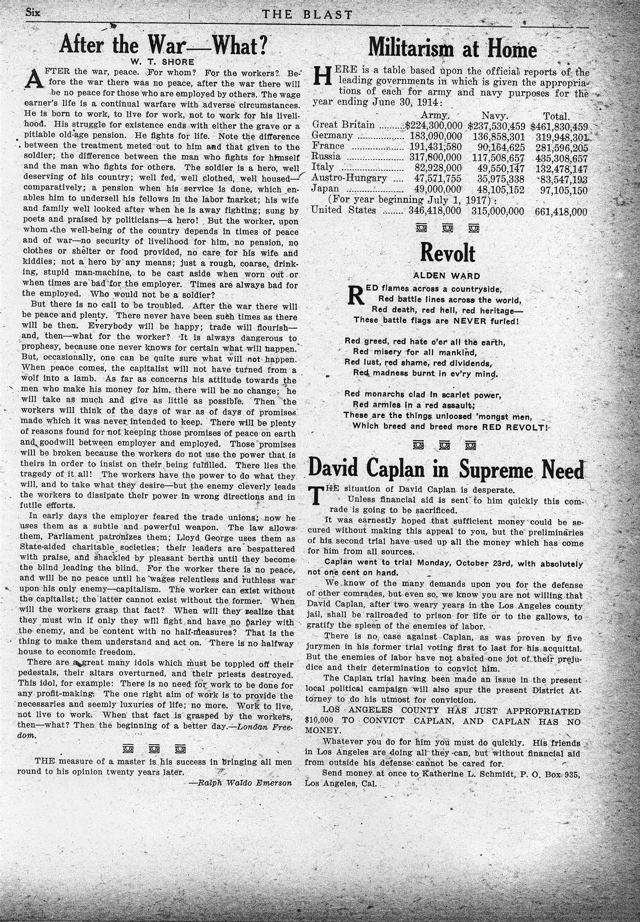 six
---
After the War--What?
W. T. SHORE
AFTER the war, peace. For whom? For the workers? Before the war there was no peace, after the war there will be no peace for those who are employed by others. The wage earner's life is a continual warfare with adverse circumstances. He is born to work, not to work for his livelihood. His struggle for existence ends with either the grave or pitiable old age pension. He fights for life. Note the difference between the treatment meted out to him and that given to the soldier; the difference between the man tho fights for others. The soldier is a hero, well deserving of his country; well fed, well clothed, well housed--comparitively; a pension when his service is done, which enables him to undersell his fellows in the labor market; his wife and family well looked after when he is away fighting; sung by poets and praised by politicians--a hero! But the worker, upon whom the well-being of the country depends in times of peace and of war--no security of livelihood for him, no pension, no clothes or shelter or food provided, no care for his wife and kiddies; not a hero by any means; just a rough, coarse, drinking, stupid man-machine, to be cast aside when worn out or when times are bad for the employer. Times are always bad for the employed. Who would not be a soldier?
But there is no cause to be troubled. After the war there will be peace and plenty. There never have been such times as there will be then. Everybody will be happy; trade will flourish--and then--what for the worker? It is always dangerous to prophesy, because one never knows for certain what will happen. But, occasionally, one can be quite sure what will not happen. When peace comes, the capitalist will not have turned from a wolf into a lamb. As far as concerns his attitude towards the man who make his money for him, there will be no change; he will take as much and give as little as possible. Then the workers will think of the days of war as of days of promises made which it was never intended to keep. There will be plenty of reasons found for not keeping those promises of peace on earth and goodwill between employer and employed. Those promises will be broken because the workers do not use the power that is theirs in order to insist on their being fulfilled. There lies the tragedy of it all! The workers have the power to do what they will, and to take what they desire--but the enemy cleverly leads the workers to dissipate their power in wrong directions and in futile efforts.
In early days the employer feared the trade unions; now he uses them as a subtle and powerful weapon. The law allows them, Parliament patronizes them; Lloyd Gearge uses them as State-aided charitable societies; their leaders are bespattered with praise, and shackled by pleasant berths until they become the blind leading the blind. For the worker there is no peace until he wages relentless and ruthless war upon his enemy--capitalism. The worker can exist without the capitalist; the latter cannot exist without the former. Then will the workers grasp that fact? When will they realize that they must win if only they will fight and have no parley with the enemy, and be content with no half-measures? That is the thing to make them understand and act on. There is no halfway house to economic freedom.
There are a great many idols which must be toppled off their pedestals, their altars overturned, and their priests destroyed. This idol, for example: There is no need for work to be done for any profit-making. The one right aim of work is to provide the necessaries and seemly luxuries of life; no more. Work to live, not live to work. Then that fact is grasped by the workers, then--what? Then the beginning of a better day.--London Freedom
---
THE measure of a master is his success in bringing all men round to his opinion twenty years later.
--Ralph Waldo Emerson
---
Militarism at Home
HERE is a table based upon the official reports of the leading governments in which is given the appropriations of each for army and navy purposes for the year ending June 30, 1914:

Great Britian: Army:$224,300,000 Navy:$237,530,459 Total:$461,830,459
---
Germany:
Army:$183,090,000
Navy:$136,858,301
Total:$319,948,301

---
France:
Army:$191,431,580
Navy:$90,164,625
Total:$281,596,205

---
Russia:
Army:$317,800,000
Navy:$117,508,657
Total:$435,308,657

---
Italy:
Army:$82,928,000
Navy:$49,550,147
Total:$132,478,147

---
Austro-Hungary:
Army:$47,571,755
Navy:$35,975,338
Total:$83,547,193

---
Japan:
Army:$49,000,000
Navy:$48,105,152
Total:$97,105,150

---
(for year beginning July 1, 1917)
United States:
Army:$346,418,000
Navy:$315,000,000
Total:$661,418,000

---
Revolt
Alden Ward
RED flames across a countryside,
Red battle lines across the world
Red death, red hell, red heritage--
These battle flags are NEVER furled!

Red greed, red hate o'er all the earth,
Red misery for all mankind,
Red lust, red shame, red dividends,
Red madness burnt in ev'ry mind.

Red monarchs clad in scarlet power,
Red armies in a red assault;
These are the things unloosed ,mongst men,
Which breed and breed more RED REVOLT!

---
David Caplan in Supreme Need
THE situation of David Capplan is desperate. Unless financial aid is sent to him quickly this comrade is going to be sacrificed.
It was earnestly hoped that sufficient money could be secured without making this appeal to you, but the preliminaries of his second trial have used up all the money which has come to him from all sources.
Caplan went to trial Monday, October 23rd, with absolutely not one cent in hand.
We know of the many demands upon you for the defense of other comrades, but even so, we know you are not willing that David Caplan, after two weary years in the Los Angeles county jail, shall be railroaded to prison for life or to the gallows, to gratify the spleen of the enemies of labor.
There is no case against Caplan, as was proven by five jurymen in his former trial voting first to last for his aquital. But the enemies of labor have not abaited one jot of their prejudice and their determination to convict him.
The Caplan trial having been made an issue in the present local political campaign will also spur the present District Attorney to do his utmost for conviction.
LOS ANGLES COUNTY HAS JUST APPROPRIATED $10,000 TO CONVICT CAPLAN, AND CAPLAN HAS NO MONEY.
Whatever you do for him you must do quickly. His friends in Los Angeles are doing all they can, but without financial aid from outside his defense cannot be cared for.
Send money at once to Katherine L. Schmidt, P.O. Box 935, Los Angeles, Cal.