The following periodicals appear in Anarchy Archives thanks to FLA, the Federacion Libertaria Argentina and their project, Biblioteca-Archivo de Estudios Libertarios.
Up
Next-->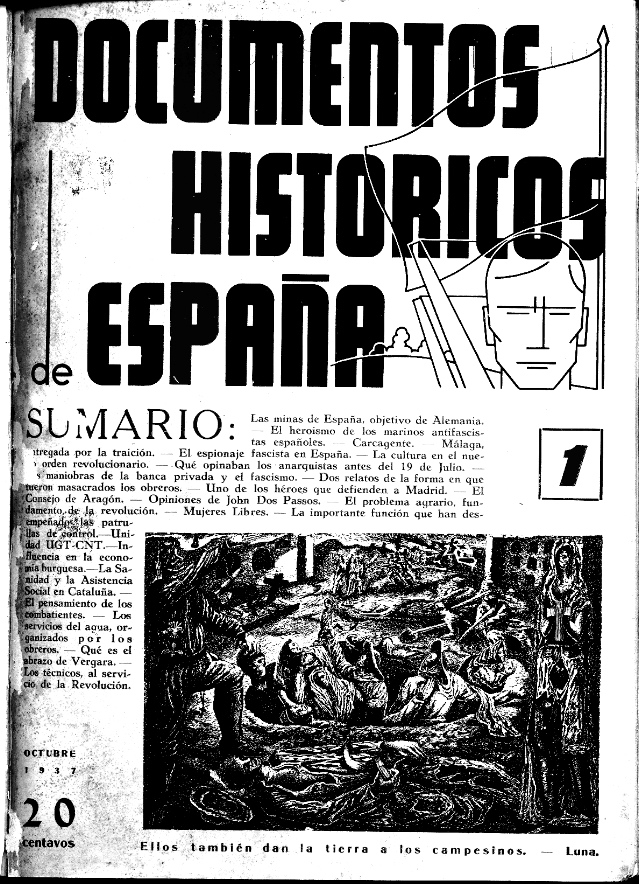 ---
Documentos Históricos de España
Año I, Numero 01, Octubre de 1937
---
Historical Documents of Spain
Year I, Number 01, October of 1937
Summary:
The mines of Spain, objective of Germany. The heroism of the antifascist Spanish mariners. Carcagente. Malaga, given by the treason. --- The fascist spy in Spain. --- The culture in our revolutionary order. - The anarchists opinions prior to the 19th of July --- Private bank maneuvers and fascism. - Two accounts of how the workers were massacred. - One of the heroes that defended Madrid. - Aragons advice. - Free Women. - The important function the control police have played. - UGT CNT unity. - Influence of the bourgeoisie economy. - The Sanity and the Social Assistance in Cataluña. - The thought of the combatants. - The water services, organized by the workers. - What Vergara's hug is. - The technicians serving for the Revolution.
They too give the dirt to the peasants. - Moon. (photo caption)