From: Ishill, Joseph. (1927). Élisée and Élie Reclus: In Memoriam. Compiled, ed. and printed by Joseph Ishill. Berkeley Heights, N.J.: Oriole Press.
From--- "THE UNIVERSAL GEOGRAPHY" By Elisée Reclus

---
---
CONTENDING PASSIONS AND INSTINCTIVE NATIONAL HATREDS TOO FREQUENTLY OBSCURE OUR JUDGEMENT, AND WE SEE MAN AS HE IS NOT. THE FAR-OFF SAVAGES ASSUME THE SHAPE OF DIM PHANTOMS, AND OUR NEAR NEIGHBOURS AND RIVALS IN THE ARTS OF CIVILIZATION APPEAR REPULSIVE AND DEFORMED OF FEATURE. IF WE WOULD SEE THEM AS THEY REALLY ARE, WE MUST GET RID OF ALL OUR PREJUDICES, AND OF THOSE FEELINGS OF CONTEMPT, HATRED, AND PASSION WHICH STILL SET NATION AGAINST NATION. OUR FORE-FATHERS, IN THEIR WISDOM, SAID THAT THE MOST DIFFICULT THING OF ALL WAS TO KNOW ONE'S SELF. SURELY A COMPREHENSIVE STUDY OF MANKIND IS MORE DIFFICULT STILL.

HE SO-CALLED "BALANCE OF EUROPEAN POWERS," FOUNDED AS IT IS UPON THE RIGHTS OF WAR & AMBITIOUS RIVALRIES BETWEEN NATIONS IS NECESSARILY UNSTABLE. NATIONS EMINENTLY FIT TO LEAD A COMMON POLITICAL EXISTENCE ARE TORN ASUNDER ON THE ONE SIDE, WHILST THE MOST HETEROGENEOUS ELEMENTS ARE THROWN TOGETHER ON THE OTHER. IN THESE POLITICAL ARRANGEMENTS THE NATIONS THEMSELVES ARE NEVER CONSULTED, BUT THEIR WISHES AND INCLINATIONS MUST NEVERTHELESS PREVAIL IN THE END, AND THE ARTIFICIAL EDIFICE RAISED BY WARRIORS & STATESMEN WILL COME TO THE GROUND. A TRUE "BALANCE OF POWER" WILL ONLY BE ESTABLISHED WHEN EVERY NATION OF THE CONTINENT SHALL HAVE BECOME THE ARBITER OF ITS OWN DESTINIES, WHEN EVERY PRETENDED RIGHT OF CONQUEST SHALL HAVE BEEN SURRENDERED, AND NEIGHBOURING NATIONS SHALL BE AT LIBERTY TO COMBINE FOR THE MANAGEMENT OF THE AFFAIRS THEY HAVE IN COMMON. OUR ARBITRARY POLITICAL DIVISIONS THEREFORE, POSSESS BUT A TRANSITORY VALUE.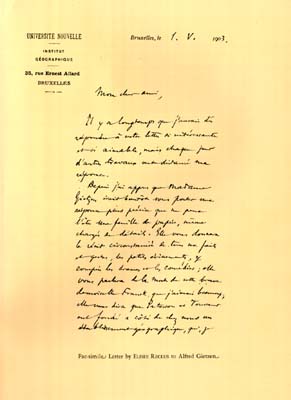 Recollections of Elisée Reclus

IS great Geography is a remarkable encyclopaedia wherein the various branches of natural science and of social science are unfolded in perfect harmony. After reading it one knows the earth and man. He illuminated the world we know by his magnificent descriptions. And what an admirable style, as rich as his science, as varied as his ideas.

But Elisée Reclus was not only a great scientific and literary genius, he was also a man in the full sense of this word; I do not say he was a superman, for he would have detested this Nietzschean term. He had the highest qualities, modesty, generosity, moral courage, and absolute morality. Conceiving life as a humanitarian apostolate, he consecrated the greater part of his fortune to succouring the unhappy. He may have earned over a million, perhaps two million francs, by his works, yet he died in a state akin to poverty. When I saw him last, in 1904, he had retired to Brussels in a small and very modest house, the only furniture being of ordinary deal: the lodging of a poor student. He had retrenched everything that was not indespensible, and he did this in the simplest way imaginable, as if it were a matter of course.

His generosity was unlimited, and his delicacy as well. When I was his secretary he maintained, to my knowledge, a workingman's family deprived of its natural support. I saw him give 3 or 4000 francs to people who were ruined, or told him they were, as we give 20 centimes to an unhappy beggar. He did this delicately, nobly, effacing himself, and, as it were, excusing himself for being unable to do more.

In his relations with all employed by him he was always exquisitely polite, as I experienced myself.

This extraordinary generosity, the origin of his philosophical and social ideas, is far to be sought: it makes one understand the noble ideal which he constantly cherished.
HENRI SENSINE
LAUSANNE, JUNE 5, 1924.

---
To next chapter
Return to Table of Contents
Return to Reclus Archive
Return to Anarchy Archives