Emma Goldman's Tribute to Voltarine de Clyre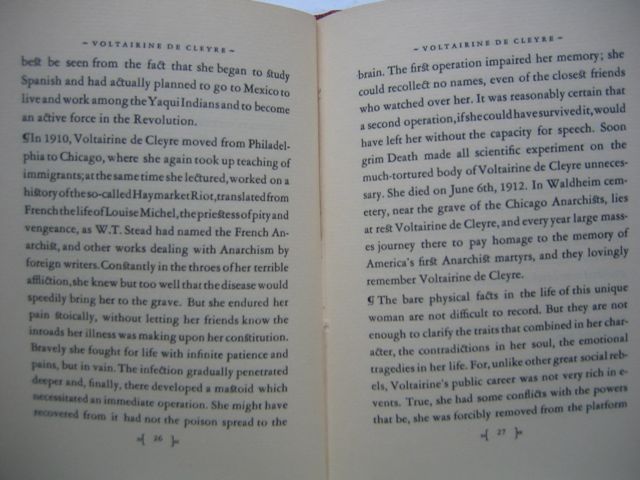 best be seen from the fact that she began to study Spanish and had actually planned to go to Mexico to live and work among the Yaqui Indians and to become an active force in the Revolution.
In 1910, Voltairine de Cleyre moved from Philidelphia to Chicago, where she again took up teaching of immigrants; at the same time she lectured, worked on a history of the so-called Haymarket Riot, translated from French of life of Louise Michel, the priestess of pity and vengeance, as W.T. Stead had named the French Anarchist, and other works dealing with Anarchism by foreign writers. Constantly in the throes of her terrible affliction, she knew but too well that the disease would speedily bring her to her grave. But she endured her pain stoically, without letting her friends know the inroads her illness was making upon her constitution. Bravely she fought for life with infinite patience and pains, but in vain. The infection gradually penetrated deeper and, finally, there developed a mastoid which necessitated an immediate operation. She might have recovered from it had not the poison spread to the brain. The first operation impaired her memory; she could recollect no names, even of the closest friends who watched over her. It was reasonably certain that a second operation, if she could have survived it, would have left her without the capacity for speech. Soon grim Death made all scientific experiment on the much-tortured body of Voltairine de Cleyre unnecessary. She died on June 6th, 1912. In Waldheim cemetery, near the grave of the Chicago Anarchists, lies at rest Voltairine de Cleyre, and every year large masses journey there to pay homage to the memory of America's first Anarchist martyrs and they lovingly remember Voltairine de Cleyre.
The bare physical facts in the life of this unique woman are not difficult to record. But they are not enough to clarify the traits that combined in her character, the contradictions in her soul, the emotional tragedies in her life. For, unlike other great social rebels, Voltairine's public career was not very rich in events. True, she had some conflicts with the powers that be, she was forcibly removed from the platform