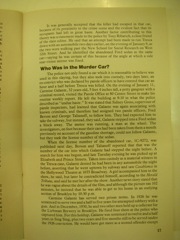 It was generally accepted that the killer had escaped in that car, because of its proximity to the crime scene and athe evident fact that its occupants had left in great haste. Another factor contributing to this theory was a statement made to the police by Tony Ribarich, a close friend of the slain editor. He said that an attempt had been made to run Tresca down with an automobile two days earlier, on the evening of January 9, as the two were walking past the New School for Social Research on West 12th Street. And he identified the abandoned Ford Sedan as the same car- saying he was certain of this because of the angle at which a side rear-vision mirror was fixed.
Who Was in the Murder Car?
The police not only found a car which it is reasonable to believe was used in this slaying, but they also took into custody, two days later, an ex-convict who was declared by parole officers to have entered that car an hour and a half before Tresca was killed. On the evening of January 11, Carmine Galante, 32 years old, 5 feet 4 inches tall, a patty gangster with a criminal record, visited the Parole Office at 80 Center Street to make his routine weekly report. He left the building at 8:10 in what the police described as "undue haste." It was stated that Sidney Gross, supervisor of parole inspectors, had learned that Galante was again associating with known criminals, and therefore had assigned two parole officers, Fred Berson and George Talianoff, to follow him. They had expected him to take the subway, but instead, they said, Galante stepped into a Ford sedan a block away. The motor was running, a man at the wheel. The investigators, on foot because their cars had been taken from them a month previously on account of the gasoline shortage, could not follow Galante, but they took the license number of the sedan.
When the license number of the abandoned car, IC-9272, was published next day, Berson and Talianoff reported that that was the number of the car into which Galante had stepped the night before. A search for him was begun, and late Tuesday evening he was picked up at Elizabeth and Prince streets. Taken into custody as a material witness in the Tresca case, Galante denied he had been in any automobile the night before, asserting that he went uptown by subway and saw Casablanca in the Hollywood Theatre at 1655 Broadway. A girl accompanied him to the show, he said, but later he contradicted himself, according to the Herald Tribune, and said he met her after the show. Another news story stated that he was vague about the details of the film, and although the picture ran 102 minutes, he insisted that he was able to get to his home in an outlying section of Brooklyn by 10:30 P.M.
Carmine Gallante has served two prison terms. In 1926 he was sentenced to serve two and a half to five years for attempted robbery with a gun. And in December, 1930, he and two other men held up a collector for the Liebman Brewery in Brooklyn. He fired four shots at the police who captured him. For this holdup, Galante was sentenced to twelve and a half years in Sing Sing, plus two years and five months still to be served under the 1926 conviction. He would have got more as a second offender except